First one of the year... better make it good, no?
The holidays have been very good to me. In addition to catching up on nearly 2 months of releases from when I was traveling Asia, I had the opportunity to pilfer friends and other musicians top 10 lists and discover a whole new swath of wonderful tunes. Today, I'm going to draw on a nod from
The Coppertone
.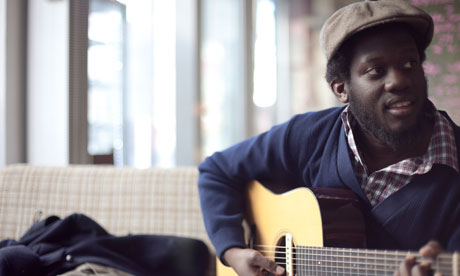 Michael Kiwanuka
is a British soul man of Ugandan descent who, after only releasing his first EP last summer, is making quick work of the music industry. He was just announced at the top of BBC's Sound of 2012 poll, so don't think he'll be going unknown and unheard for much longer.
His style is a throwback to the 60s-70s soul feel a la Bill Withers (Kiwanuka has actually played with Withers' former drummer). He takes the style to heart with most of his videos, photos and releases trying to replicate the late 60s, free love feel. With not yet an LP under his belt, he's already received massive kudos from MTV, BBC and fellow Brit soul-crooner, Adele. However, you need but wait only a couple of months before his debut,
Home Again,
drops.
-I've done everything wrong before so now it's time to do something right.