What kind of a friend would I be if the day before their album release, I didn't say something about the mountain chinook that is
Talk Sick
? Yes... it's going to be one of those shameless friend-promotion posts again, so strap yourself in and get used to it.
Way back when, I was in a little drinking group that played music called
Paper Street
. The band was effectively a constant battle between 3 friends trying to drag the musical direction into their happy place. We had a shit ton of fun for 3 years, but after going our separate ways, I think things made a lot more sense, musically. Smashing away on the drums was my brother-in-ales Jesse who, since joining Talk Sick, has been in his fucking element.
I hate admitting to jealousy because it sullies my favorite colour. However, when my good friend has a fucking white vinyl record being released tomorrow, and is opening for
SNFU
(I hope I didn't just out this) in a couple months... it's hard not to feel a bit green.
What you need to know is this; tomorrow night at L'absynthe in Montreal is going to be a damned liability waiting to happen. Talk Sick has created a sound which has been getting them well deserved attention and tomorrow night will be a celebration of that sound. Hard driving, fast action, fist pumping, hilarious, and tighter than your corn hole on the first day in prison... these boys mean business.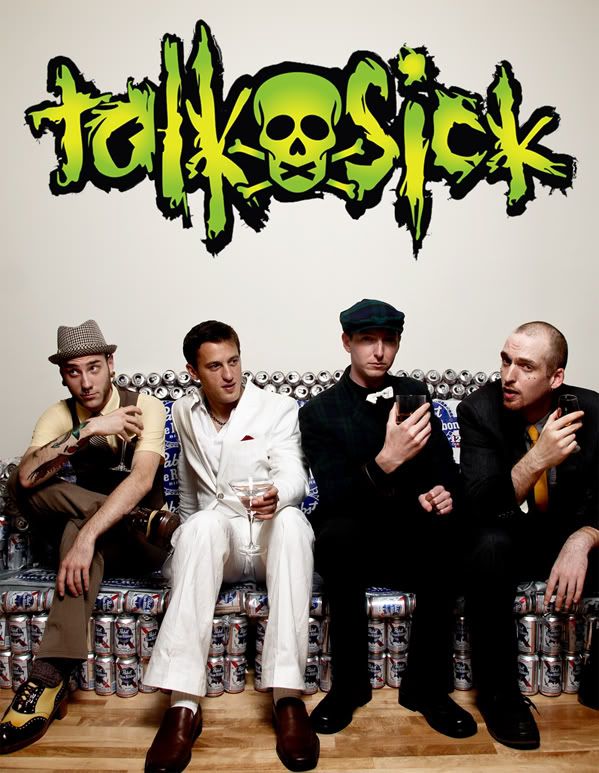 -I am a monster truck
that walks like a man