I felt like writing early this morning, however, I could also tell that it was going to be poorly-written, illogical, dirty, mashes of aimless words. As such, I couldn't think of a better outlet than my trusty blog; no one expects quality here!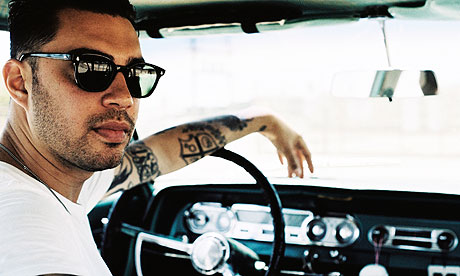 Much in-line with my mood, today I wanted to talk about sloppy, dirty, sneering, grind-you-up-the-side music. As such, it fit perfectly that I had just stumbled across
Hanni El Khatib
, a Palestinian/Filipino skateboarder/dirty blues musician. He describes his music as being for "being for anyone who has ever been shot or hit by a train." Can't say I've done either, but right now, that about encapsulates my mood.
He was picked up by Stones Throw records and his first album,
Will the Guns Come Out
, was released last fall. He's now working towards his second full length that I just learned will be produced by Dan Auerbach - suddenly makes a lot of sense why I like this guy so much.
That's all I want to say... check out this awesome, grimy, dirty blues rock.
-I need a martyr to kill